Colonic Toronto
Welcome to Back to Balance Centre leading provider of colonic in Toronto!
Back to Balance centre offers the most effective procedure of colonic in Toronto.
We are Colonic centre in Toronto with the up-to-date technology
We are professional, experienced in colon hydrotherapy and we love what we do.
Your health, well being and satisfaction is our goal.
Our mission
To return you Back to Balance
To bring Back the lost spark to your life.
To show you how to Balance the Body and Soul.
We will take you to our world and share the treasure of knowledge we have collected. Read more about our clinic.
Why our colonics mach more effective? 
Colonic procedure is difficult and important process which requires specialized medical knowledge in physiology, physiopathology, anatomy, gastroenterology etc.
Each time the procedure is done in different ways. It all depends on the patient and the goals we want to achieve.
For example:
The water temperature depends on spastic or atonic constipation is
In some cases, we use only the Gravity Mode for colonic machine
Depending on the patient, we use up to 15 different additives in the water (enemas)
Infrared Belt or Ice can be applied on the stomach
In most cases colon problems is not located in the intestine
In many cases, the procedure is contraindicated
Read more about our colonic procedure.
Meet your colonic therapist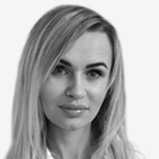 Ilze Silconoka
Certified HC Therapist
Holistic Practitioner
Call: (416) 829-4449
"I want to warn you that, a majority of providers of colon hydrotherapy are casual, and usually without sufficient knowledge on the fundamental branches of medicine. Having scarce medical knowledge, they are trying to accommodate it roughly to their practice, often significantly distorting them. As a general rule, to obtain competent advice, you should contact a licensed doctor who is engaged in this field." 
I would like to personally invite you to try our colonic services. I believe very strongly in the approaches we use to restore health and balance. We practice on ourselves the procedures recommended to our clients when appropriate and we have first hand experience in seeing benefits of colonic therapy. We love what we do. We take both a personal and professional pride in watching clients progress towards Balance. You will forget about constipation problems with our professional approach to colonic therapy. When you will come to Back to Balance Center, you will benefit from my background as a trained Medical specialist in Ukraine to ensure diagnostic and therapeutic treatments are right for your specific needs. This is just one of the ways in which are different from other colonic therapists in Toronto. I very much hope that you will consider us as one of your health care options on your road Back to Balance and I look forward to seeing soon. Read more about your colonic therapist.
Our principles
We have combined formal training in traditional medical education with practical experience in alternative medicine and the best equipment in North America to:
Ensure patient safety and satisfaction
Recognize and diagnose the cause of your illness
Restore health and promote healing
In our centre we have a various intestinal cleansing programs that remove toxins from the colon alone but for best results, it is necessary to cleanse the small and large intestines and even the stomach.